Disclaimer: All comments posted within this blog are meant as the great Adam Rida would say, in a "jocular nature."
Survivor superfan "megafan" Ryan Brink tackles the huge first week of Australian Survivor 2017.
Welcome back!
24 new Aussie castaways, 3 huge episodes in 1 giant week of Australian Survivor. It was huge and we needed it.
I'll get back to my rankings in a moment, but I just wanted to thank anyone who has taken the time and listened to our exit interviews with Joan, Adam and Kate. You helped push our podcast back into the iTunes top 10 solidifying our podcast as the #1 fan created Survivor podcast in Australia. Now on to more serious matters.
These rankings work from the person who is the safest in the game to the most likely to be the next person to have Jonathan "snuff their torch." Lets start with this weeks hot takes!
Hot Takes
Velcro Wallet debate
Did we get confirmation Adam has a velcro wallet? I'm sure with the pa pa pa Poker money he has made over the years, he does not own a velcro wallet.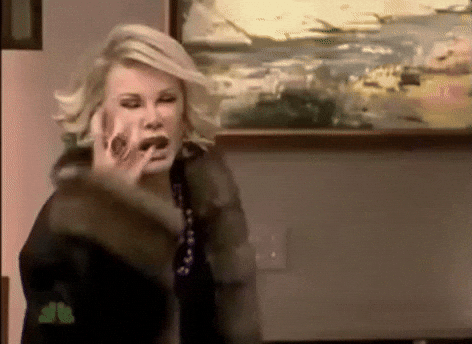 But it raises the question, how old is too old to still own a velcro wallet…? I may need to get a new wallet…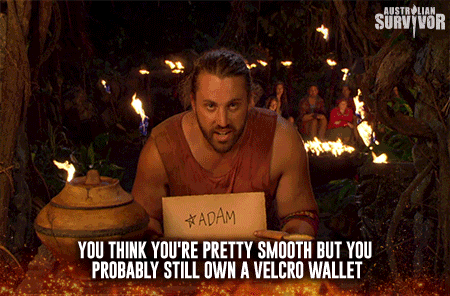 Jonathan has taken his game to the next level.
Aussie Survivor host JLP has taken it to the next level this season.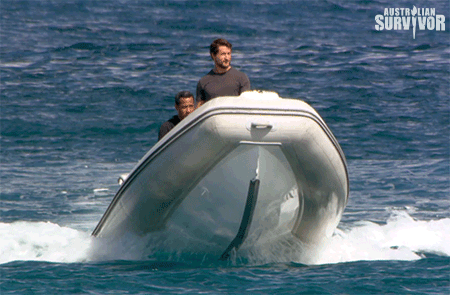 He is more relaxed and has found his feet in the role, probing more directly at Tribal Council and having a laugh in the challenges.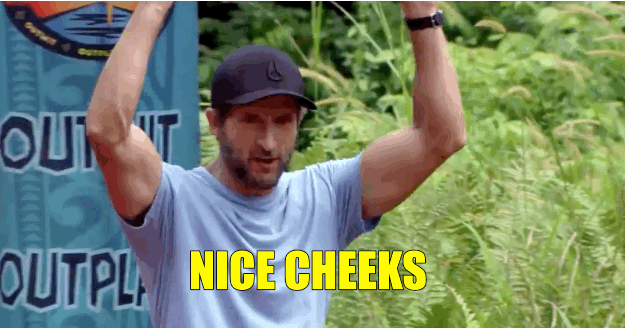 The REAL power couple.
I'm totally shipping Luke and Jericho…#Lericho? #Jeruke?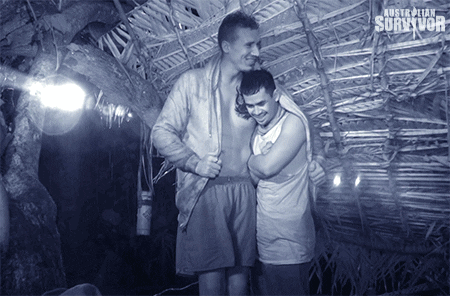 Luke so insightful…
Of course it is on our bucket list!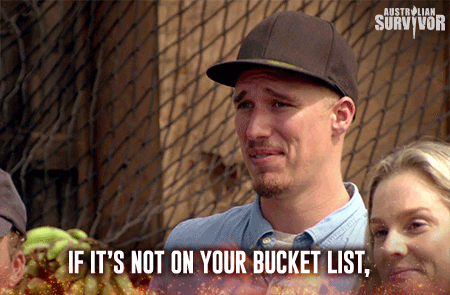 Aimee even wrote it in her diary. Who hasn't?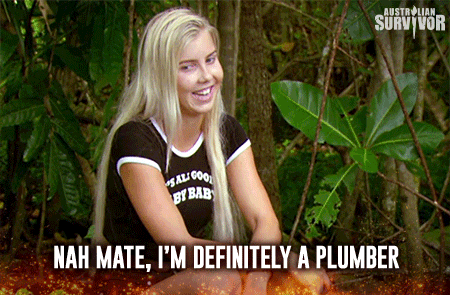 Australian Survivor has CRABS!
Finally Australian Survivor still seems set on showing us endless hours of Crabs walking on the beach. At least show one getting eaten DAMN IT!
The rankings…
#1 Henry
#TeamFakeYoga has but himself in the most powerful position in this game. He has an Idol in his right back pocket and an ally in Jacqui in his left.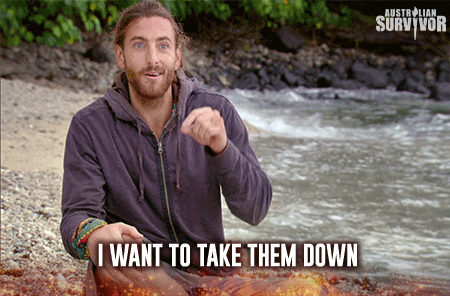 We are barely a week in and he is already looking to throw a challenge! He sits in the middle of the tribe and has everyones ear. Henry is the clear number 1 at this point in the game.
#2 Jacqui
Jacqui has been the surprise packet of the first week. Funny, fit and fabulous! She has formed a tremendously smart alliance with Henry and "together" they have an idol. Is anyone else getting Malcolm and Denise vibes?
She is happy to play dumb and make people think she has no idea what is going on.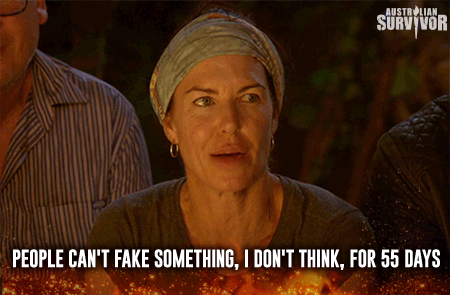 Jacqui has obviously never met any of my ex-partners…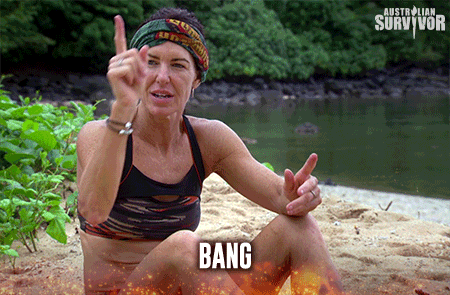 #3 Locky
Locky has bared all this week… and we all went wild! 😉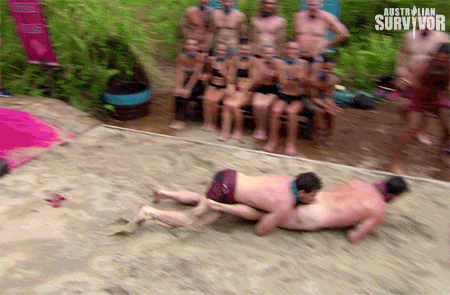 Locky has positioned himself in the power position in his tribe. He leads the #MisfitAlliance and has fitted into the role of tribe "captain."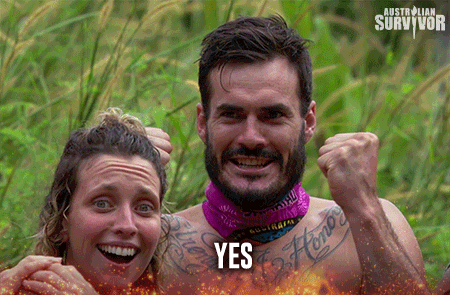 #4 Sarah
Sarah has socially positioned herself in a wonderful position. Her lie to Joan in the first episode was masterful, highlighted by Joan still believing Sarah should win this game after she was blindsided by her ally. BRUTAL!
The highlight of Sarah's week came when she had a discussion with Sam about whether she had heard her name being raised. She confirmed she had, without breaking her trust with Sam or her other allies.  Brilliant!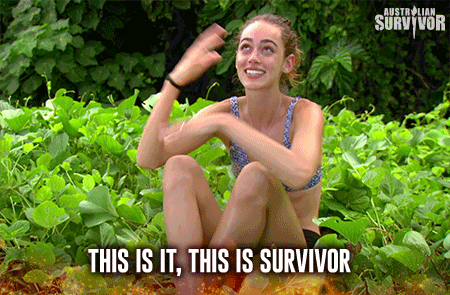 #5 Luke
Secret Spy Luke Toki is casting gold. Would I personally like to play with Luke? No! But as a character he is making every moment count.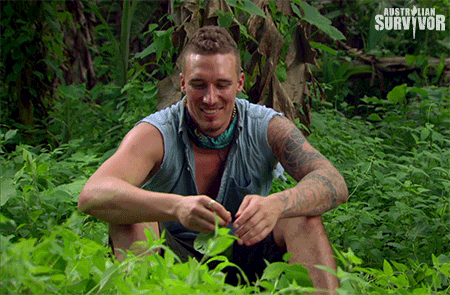 Tied votes, spy bunkers, and a brilliant game read identifying if he is being told about the vote he is on the outside of the inner alliance, Luke is not going to go quietly. Now who is the boss?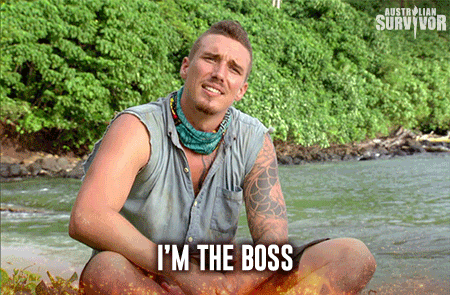 At least for now, Luke will continue to try and flip the game on its head.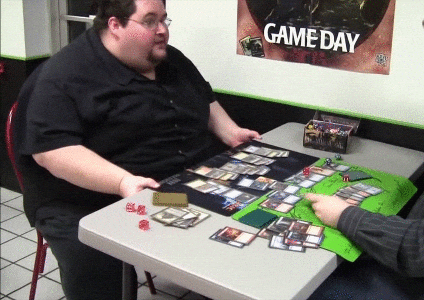 #6 Anneliese
I liked what I saw from Anneliese during the first week. When someone can clearly identify how they are being perceived by others and work themselves into a position of power, this demonstrates a strong understanding of the social game.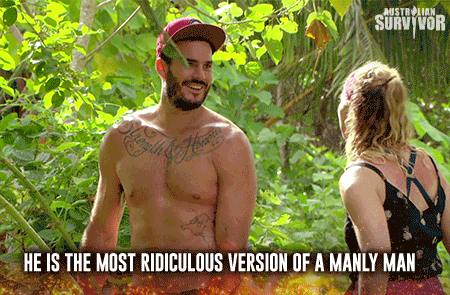 Her willingness to provide free massages (We know how well Survivor massages have worked in the past) and identifying Locky as the alpha male and feeding his ego, was perfect play. She additionally was an influential member crucial in removing Adam who she identified as wanting her out. A strong first week indeed!
THE REST – These people are playing Survivor apparently?
#7 Jericho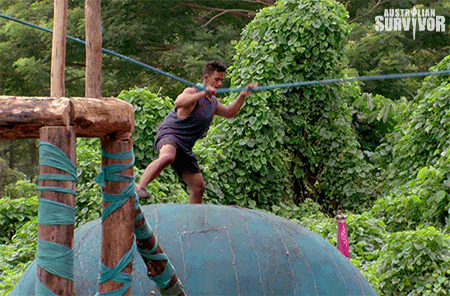 Jericholics around Australia are going wild. I can't wait to see people hit the dance floor dancing #JerichoStyle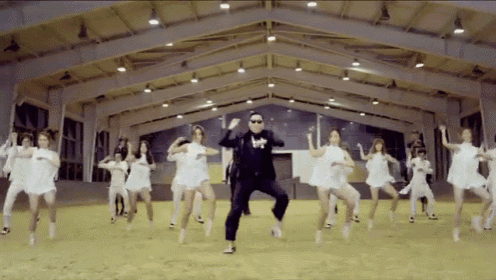 #8 Jarrad
Preach Jarrad! We really did not see much from Jarrad this week. Jarrad was seen through AK's narrative, not his own. There stories seem intertwined.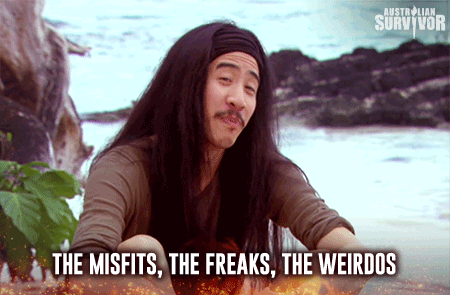 #9 Peter
Who?
#10 Michelle
This is Michelle…? Oh Luke is loose! This could be a fun game to play with Aimee.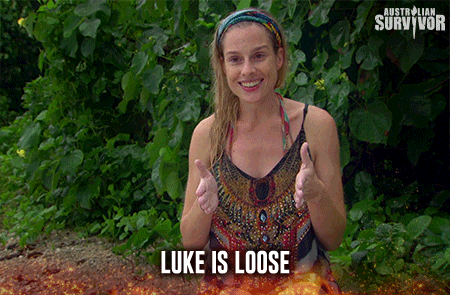 #11 Aimee
Duck, Duck…
#12 Odette
We have not seen anything to judge Odette on.
#13 Mark. W
Mark thought he had to hide his survival skills as it may cause him to be a perceived threat.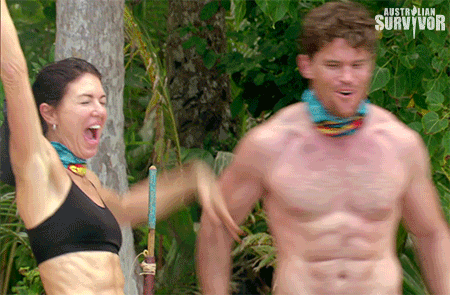 Little did he realise falling into temptation and being paired with Sam would be his downfall. This years players have learnt from the mistakes of last year and recognise that couples are dangerous in Survivor.
#14 Ziggy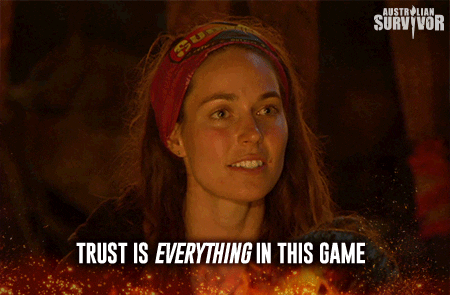 Ziggy is outside of the #MisfitAlliance, but was not even raised as a target in the last episode. She hitched her wagon to the wrong Alpha male in Adam and not Locky, but I think she will be okay for now. Physically strong, I don't see her in any immediate danger… As long as Tarzan stays away from her in challenges. This was not good!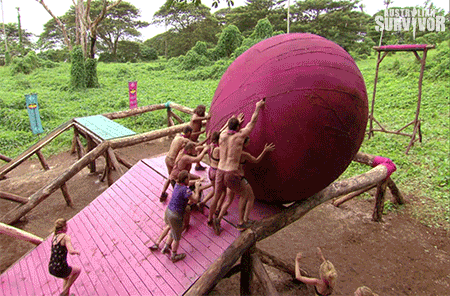 #15 Purple Ben
Live the dream Brother!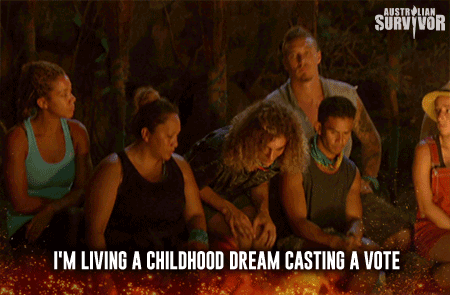 The people I think are most likely to be in trouble this week.
#16 Fan Favourite Tara Pitt
Those 3 magic words – FLIPPERS NEVER WIN! Tara's not happy.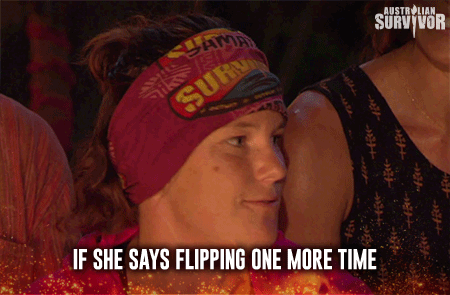 Magic in confessionals in episode one. I hope we see more of that Tara moving forward.
#17 AK
Firstly I have to declare I love AK. Chicken idol, real idol, velcro wallets, mistrust in people who don't eat fast food. AK has been electric TV to watch.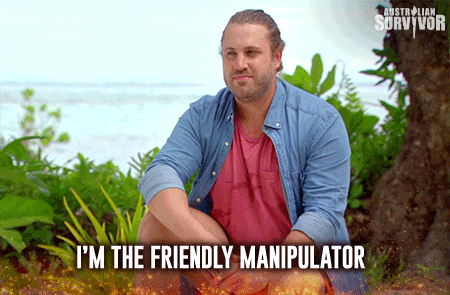 AK has fallen into the age-old superfan curse. To big, to early… But as a fan watching from home, I love it! He has already made more of an impact in 3 episodes than 75% of the people from last seasons cast. He has had double the amount of confessionals of any other person this season. Living up to the mantra – Play big or go home.
#18 Tarzan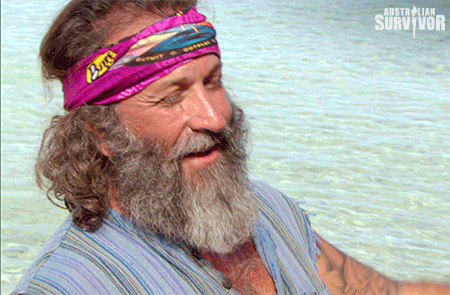 Tarzan's rope is getting a lot shorter by the day and so is his time in the game. What will Tarzan's big move be?
Prediction – A one way ticket back to the lime farm.
#19 Kent
Now I feel like the dickhead for doubting Kent. He has been great in confessionals and has scrapped his way off the bottom for now.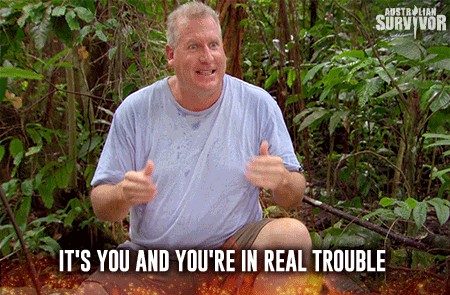 #20 Sam
I'm a little shocked to have Sam so low, so early! Dead woman walking. She is already in a perceived showmance with Mark and been labelled controlling by her tribe.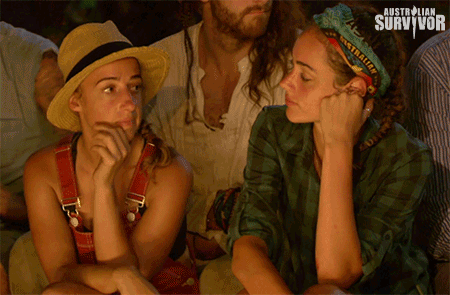 The only thing that may save Sam at this point is the uncontrollable… a tribe swap.
#21 Tessa
She is "the girl who lived!" 😉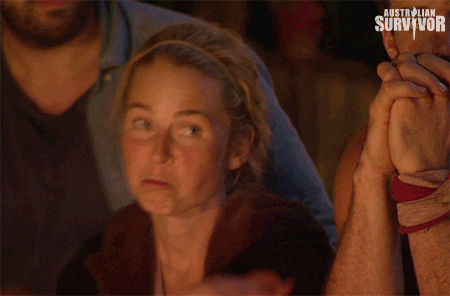 Tessa is in for the fight of her life! I'm a very big fan of Tessa. Let me publicly declare on the record I was the first to jump on the #TeamTessa bandwagon before everyone else felt similarly enlightened. 🙂 Her only option is to fight hard, be big and leave her mark on the season.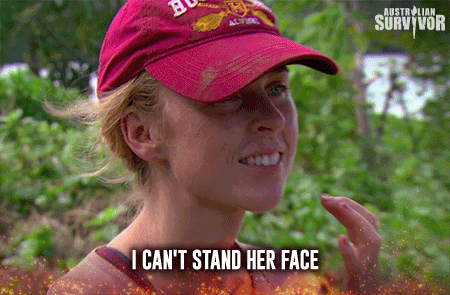 Okay that wraps up our first week of Australian Survivor, you can see how wrong my preseason predictions were by looking here. Until next week the community has spoken.
DEAD TO US!

Joan Interview
Adam Interview
Kate Interview